There's nothing quite like enjoying your food or drink outside during the beautiful spring and summer weather. With the sun shining and a gentle breeze cooling your face, it's a fantastic feeling to enjoy something delicious while taking in the surroundings. The sound of birds chirping and people talking and laughing creates a pleasant atmosphere that you can savour for hours, especially under a clear sky and blazing sun.
We have gathered a selection of places in Oslo with outdoors seating that offer exactly what you need, whether it's a drink, some food, or entertainment.
Utendørs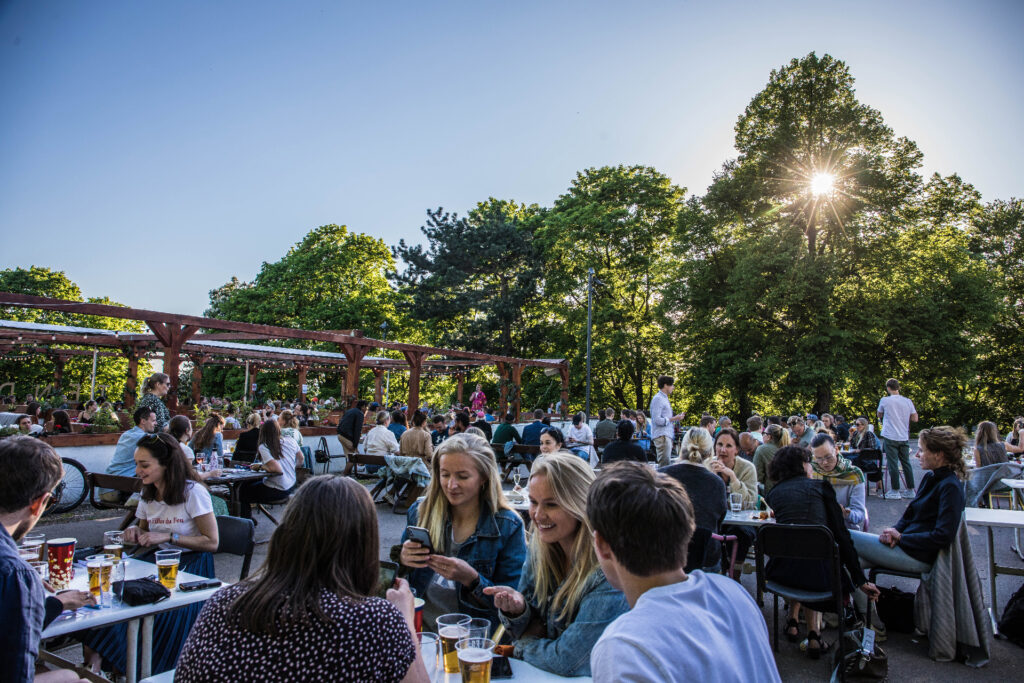 Is this the city's largest outdoor terrace? It's definitely close. Located at the top of St. Hanshaugen, this spacious area enjoys excellent sun conditions and dining options. Utendørs is open during the spring and summer season and offers various entertainment and themed nights.
In June, July, and August, they have quizzes, bingo, and other fun activities, usually free to participate in. During the summer, you'll also find a food truck serving delicious burgers. We have also listed places with entertainment in English in this article.
Check their Facebook or Instagram for more information.
Address: Ullevålsveien 28
Pom Bistro or Alf Nabolagsbar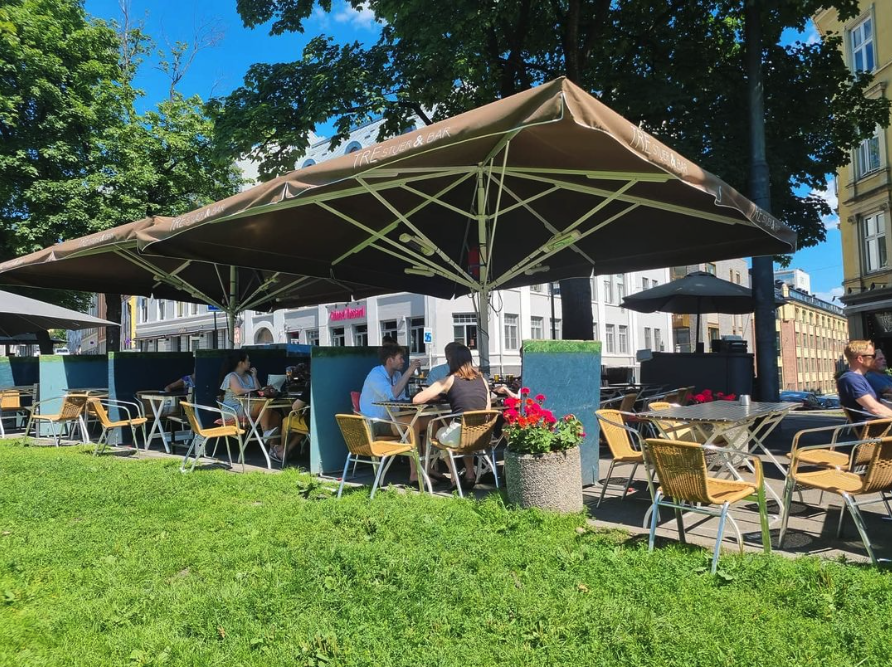 Two gems at Alexander Kiellandsplass! They are located right next to each other, with plenty of outdoor space shielded from the noise of Uelands gate. At Pom Bistro, you can enjoy bistro snacks, while Alf Nabolagsbar is an intimate and cozy little bar offering snacks and a drink menu – everything you need in one area.
An extra tip is that Alf hosts stand-up comedy nights every other Thursday in the basement. The comedy concept has its own IG account!
You can find Alf Nabolagsbar in Darres gate 1A, just a stone's throw away from Pom Bistro.
Bølgen & Moi Tjuvholmen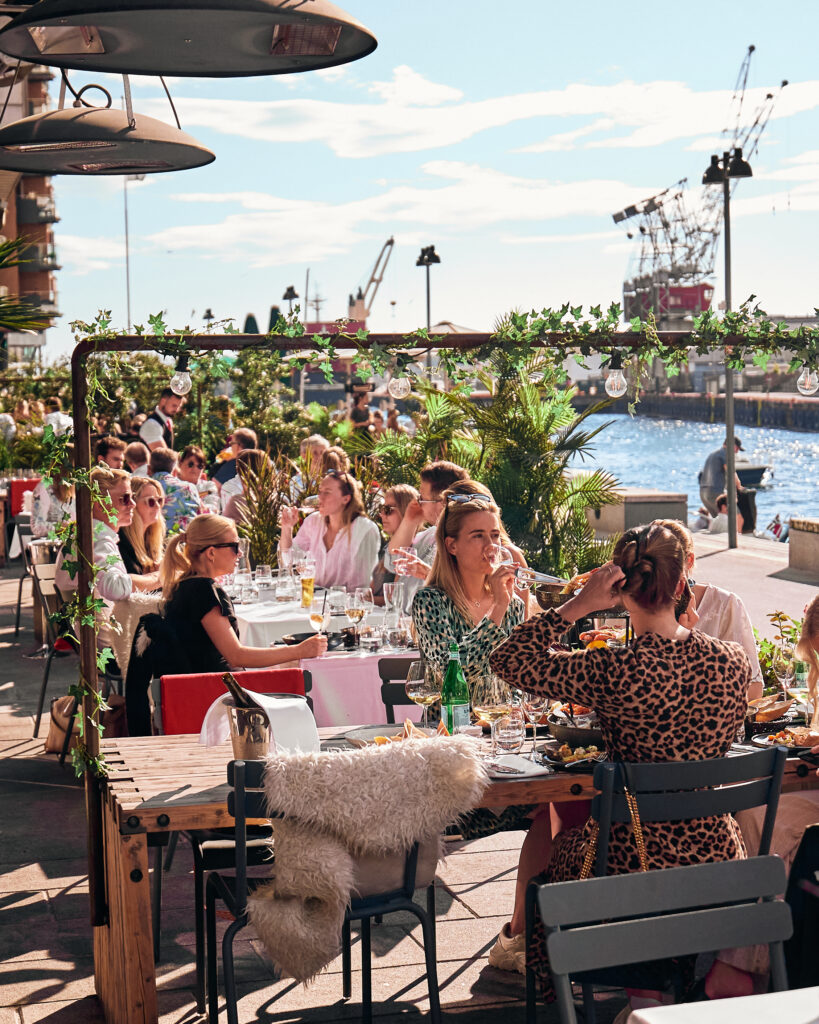 At Tjuvholmen, you'll find an excellent place, basked in sunlight, and a French menu – a perfect combination for warm spring and summer days. You can also enjoy their seafood platter with lobster, oysters, and other delicious seafood delicacies.
By the way, this is one of the few places along Tjuvholmen where you can reserve a table on the outdoor terrace.
Address: Tjuvholmen allé 5
Hrimnir ramen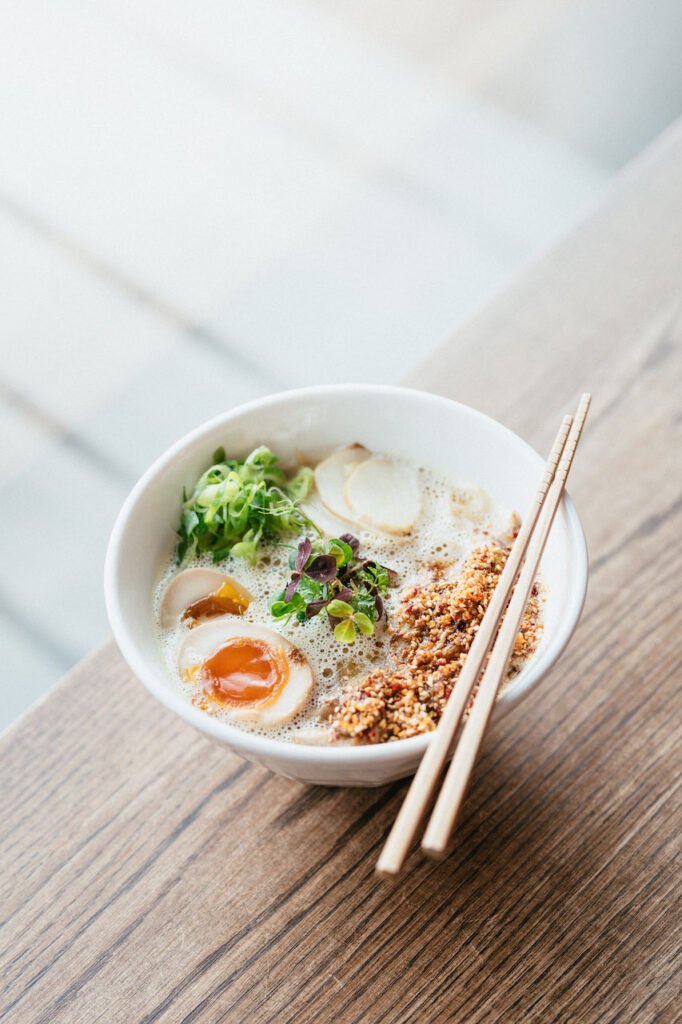 This ramen shop is located near Grünerløkka and has a small outdoor seating area that feels like a sunny spot at a cabin. If the sun isn't warm enough in spring, you can warm up with a bowl of ramen. Outdoor seating is first-come, first-served, while indoor tables can be booked through their website.
Address: Maridalsveien 9A
Fyrhuset Kuba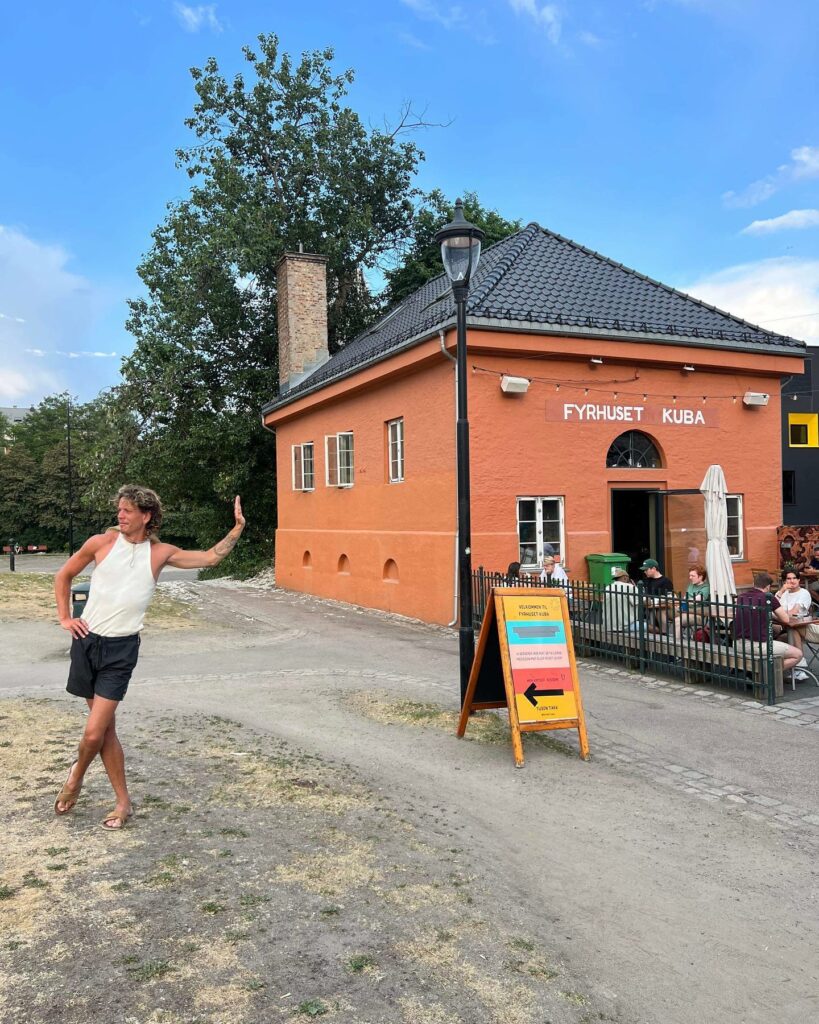 The old lighthouse at Kubaparken houses a very pleasant bar with plenty of outdoor tables and chairs. It's recommended to arrive early on the sunniest spring days to secure a spot in the sunny area! In the summer, you'll also have the luxury of enjoying some shade from the beautiful trees towering over parts of the park area.
If it gets chilly or late, you can play shuffleboard on the second floor!
Address: Maridalsveien 23
Østbanehagen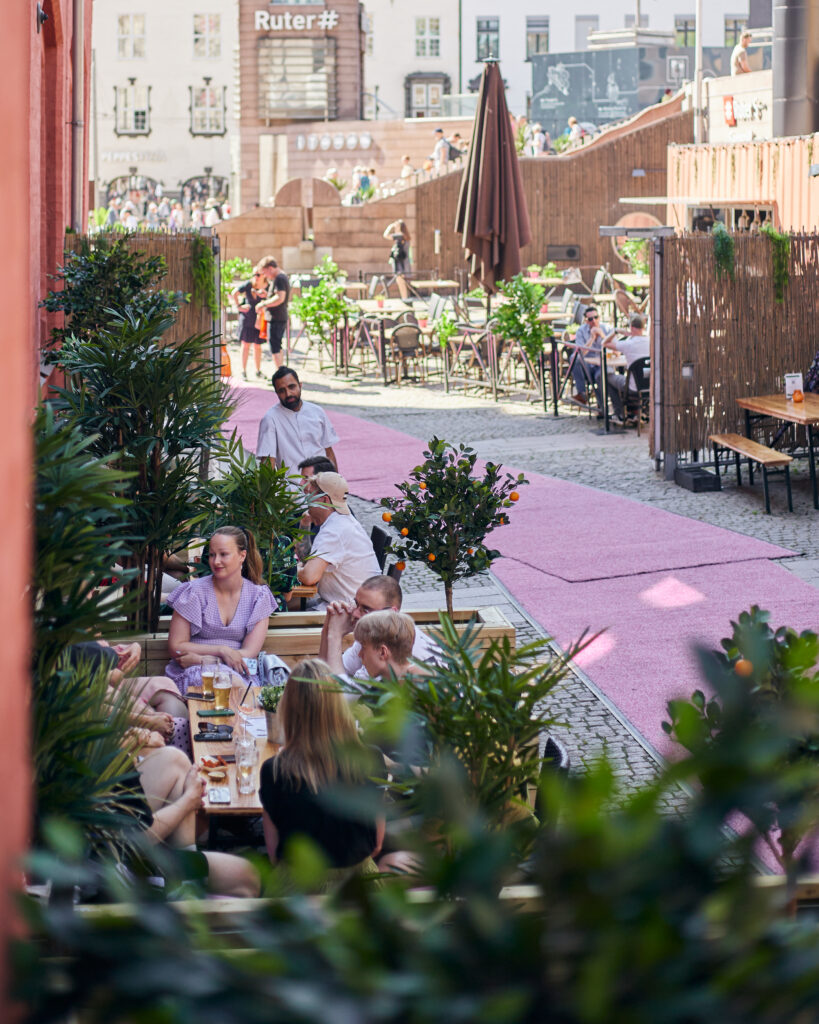 This central backyard is located between Østbanehallen and Oslo S – a hidden gem that has recently been renovated! There is plenty of space, and there are rumours that they regularly hold quizzes and entertainment throughout the summer. If you're attending a concert at Oslo Spektrum, Sentrum Scene, or Rockefeller, this is an excellent stop to quench your thirst or grab some food. For updates, we recommend following them on Facebook or Instagram.
The food offerings include various street foods, from burgers to nachos and bao buns, as well as other delicious treats from the Josper grill.
Address: Jernbanetorget 1
Handwerk Botaniske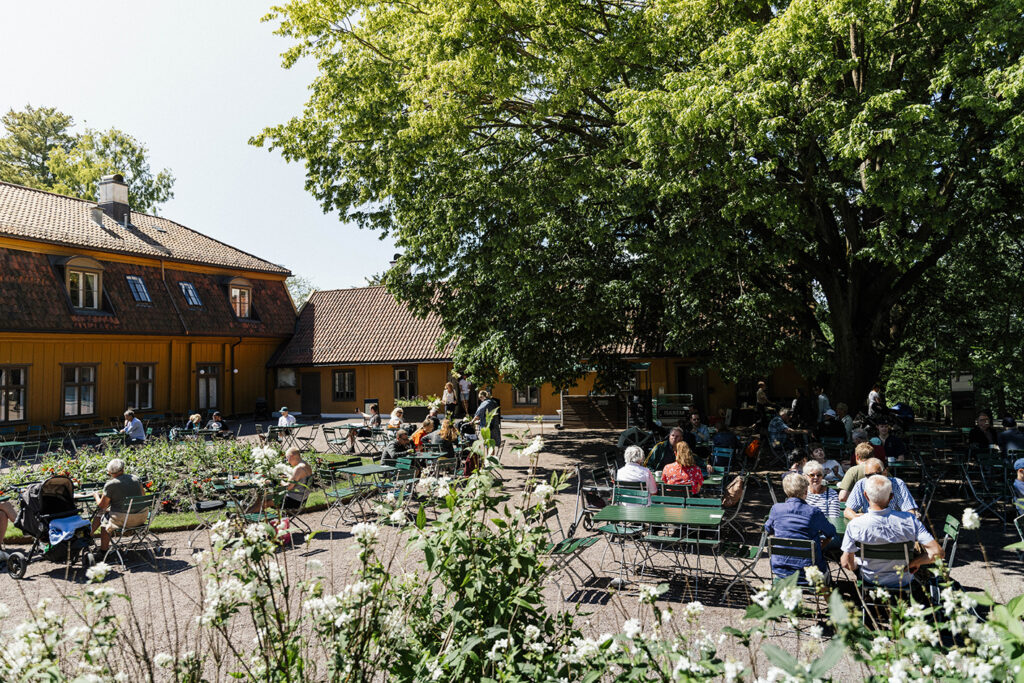 Handwerk is a very pleasant and small café in the Botanical Garden, offering pastries, coffee, vegetarian dishes, and other snacks made with quality ingredients. The outdoor seating in the «tunet» area is perfect in the summer. The café often updates its menu and events on Instagram and TikTok.
Mynt, the rooftop terrace at Sentralen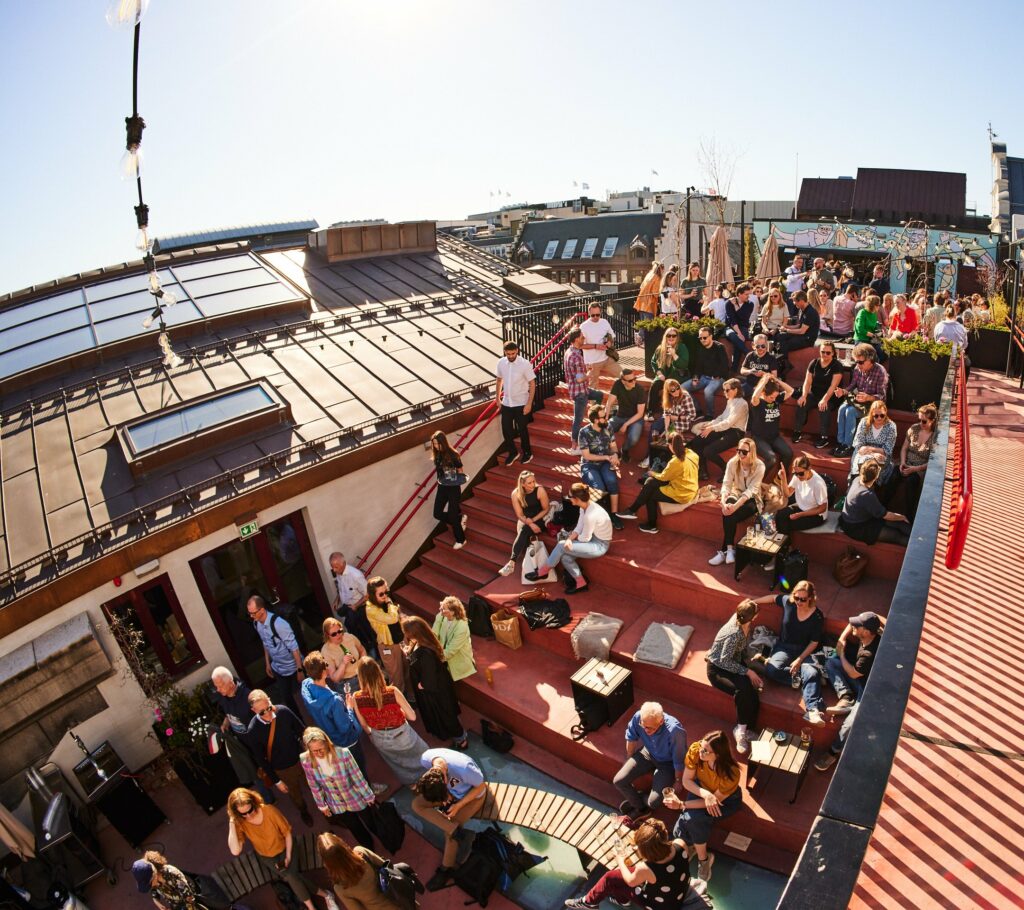 On top of the Sentralen building, you'll find the rooftop terrace called Mynt. The rooftop bar is operated by Sentralen Restaurant, which is a proof of quality in itself. DJs often play until the late hours, and you can gaze at the view over the rooftops of Kvadraturen until the sun sets. You can't ask for much more on a warm summer day!
Adresse: Øvre Slottsgate 3
El Brutus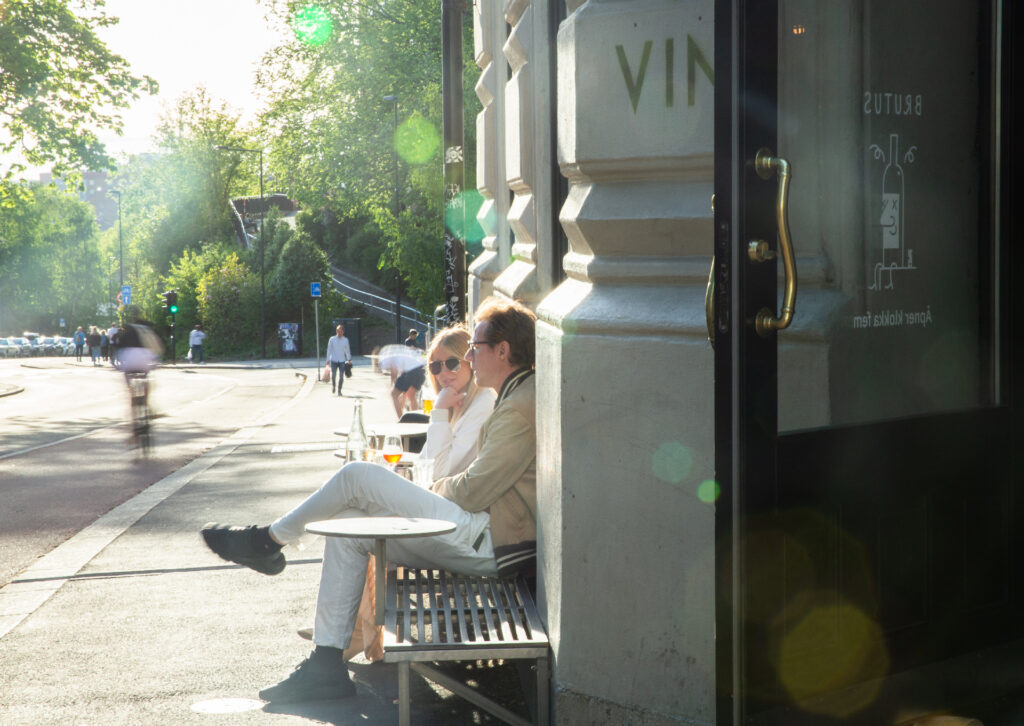 The Spanish restaurant and natural wine bar El Brutus in Tøyen has a limited number of seats in the sunny area, so it's first-come, first-served! We recommend enjoying a couple of small dishes and some drinks while the sun is shining
Address: Eiriks gate 2
Vineria Ventidue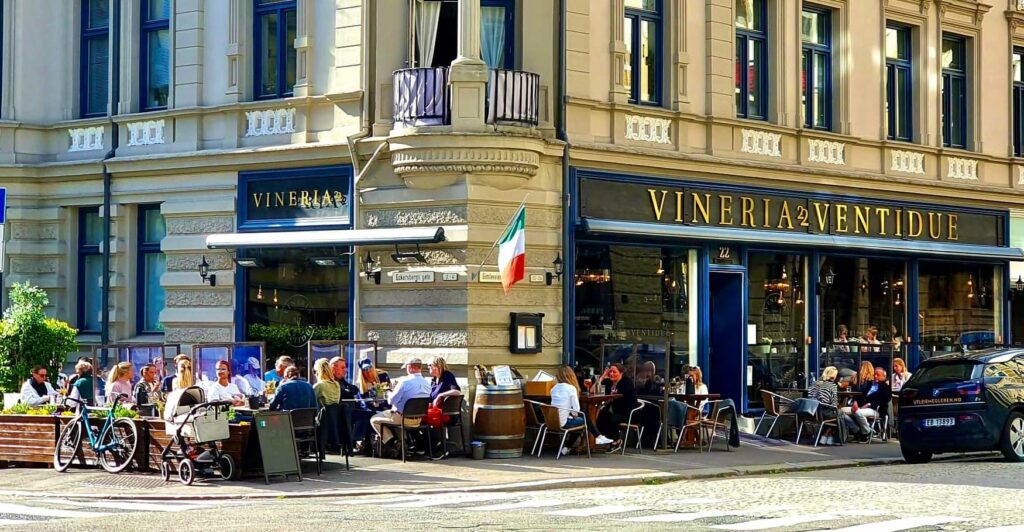 This small Italian restaurant in Frogner serves authentic dishes from all over Italy. The chefs here have experience from Michelin-starred restaurants, and the owner also has Italian roots. The outdoor seating provides a real neighbourhood restaurant feel and a peaceful atmosphere.
PS: Only walk-ins accepted for the outdoor seating.
Address: Gimleveien 22
Delicatessen Grünerløkka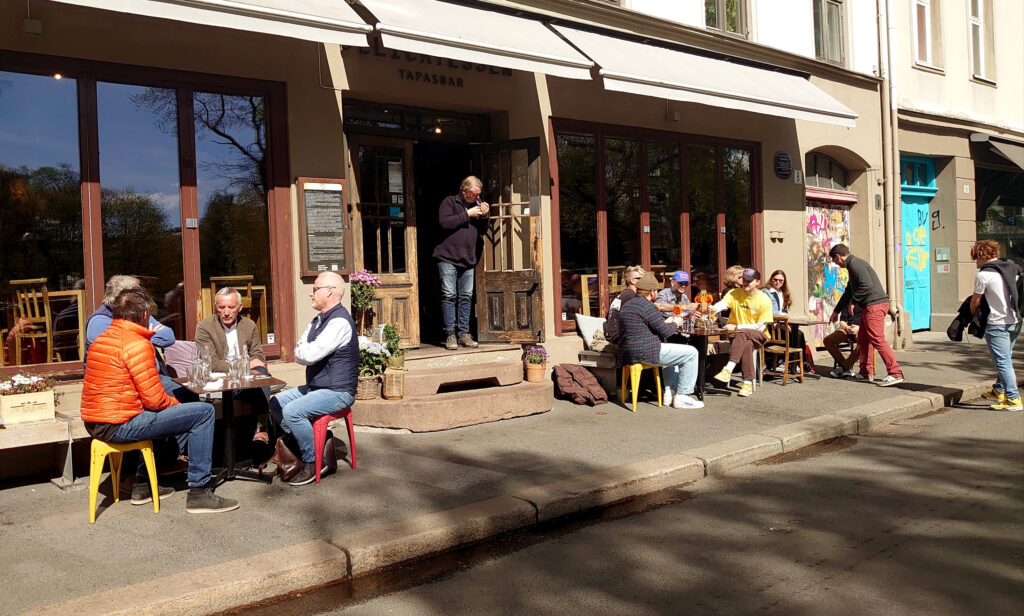 At Grünerløkka, Delicatessen tapas bar has a small and sunny outdoor seating area along the windows. If you ask a staff member, they can provide you with some chairs and set up a small table on the sidewalk. The restaurant is very popular, so make sure to secure a spot if you happen to see an available one.
Enjoy a dish or ten and bask in the sun!
Address: Søndre gate 8
Delicatessen Majorstuen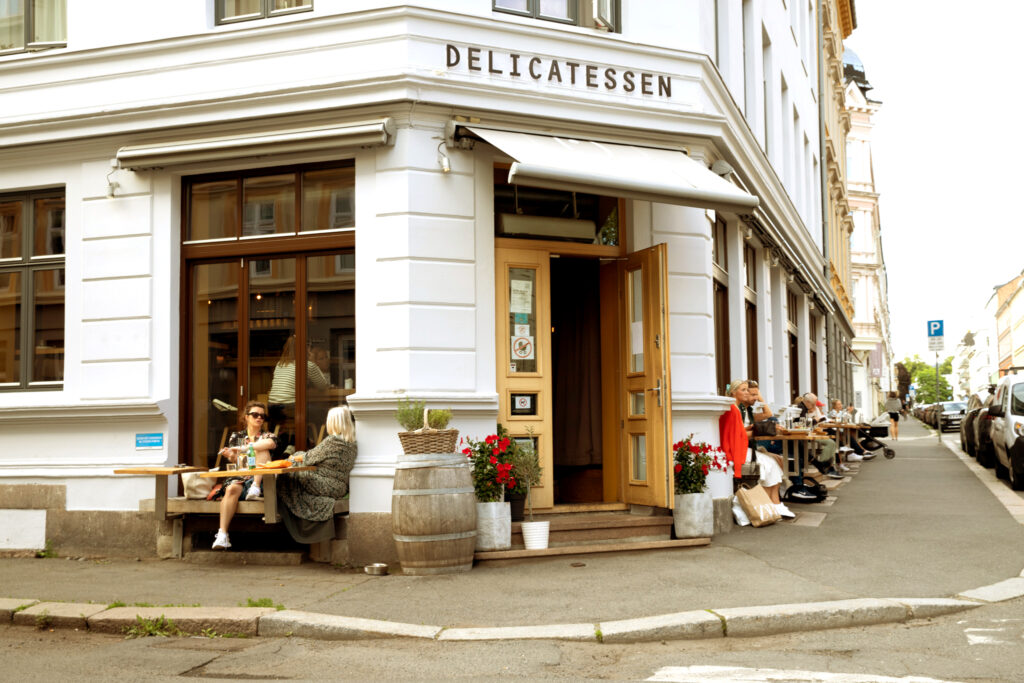 Similar to the branch in Grünerløkka, the Majorstuen location is also sunny and in high demand. Here, you'll find the same delicious small dishes and drinks that Delicatessen is known for.
Only walk-ins accepted for the outdoor seating.
Address: Vibes gate 8A
Delicatessen Aker brygge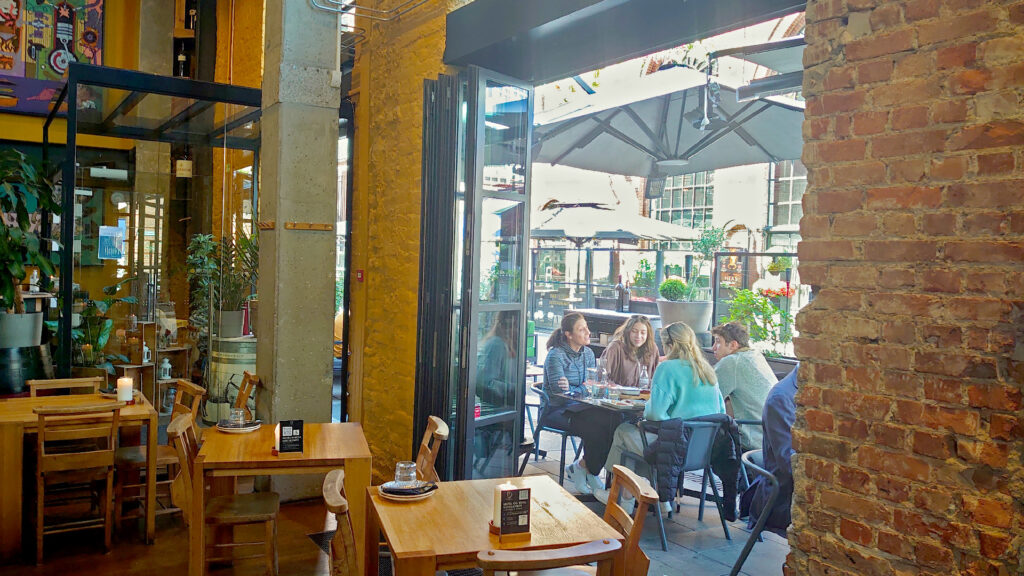 The tapas bar at Aker Brygge is centrally located, just a short walk from Nasjonaltheatret. The outdoor seating is at its best from June to August, with a couple of hours of sun from 3 PM to 5 PM. If you need a place to cool down on a hot summer day, this can be a perfect break from the sun.
Address: Holmens gate 2
The Golden Chimp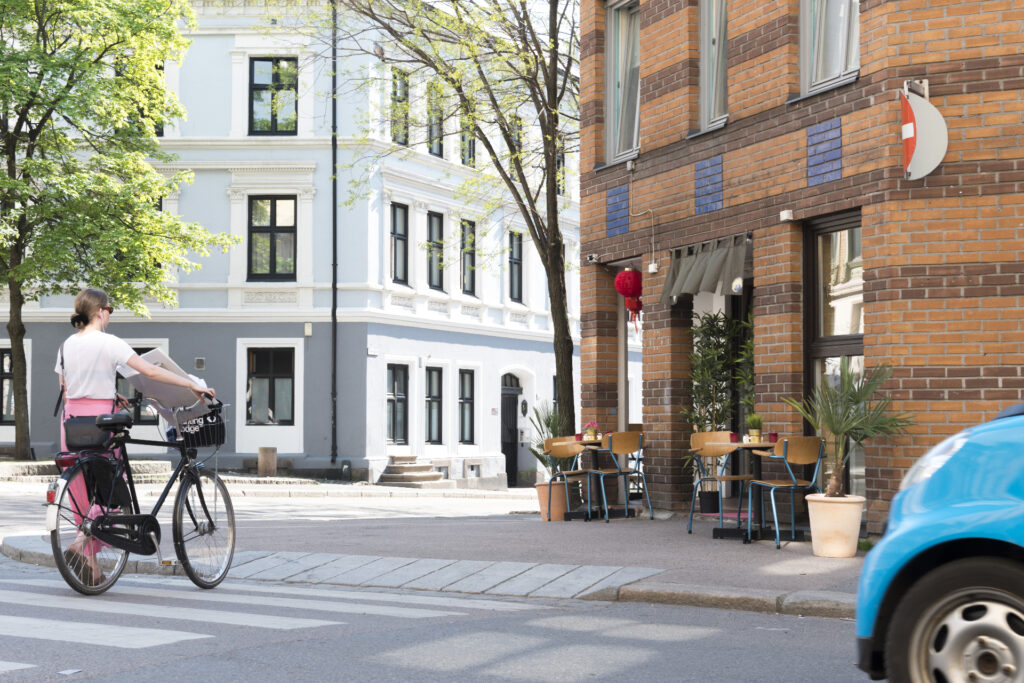 The Golden Chimp is perhaps the city's best dim sum restaurant. They have a small outdoor seating area with several tables. The restaurant is open throughout July, so this is definitely a place to stop by if you're in the Tøyen area.
Address: Heimdalsgata 37
Der Peppern Gror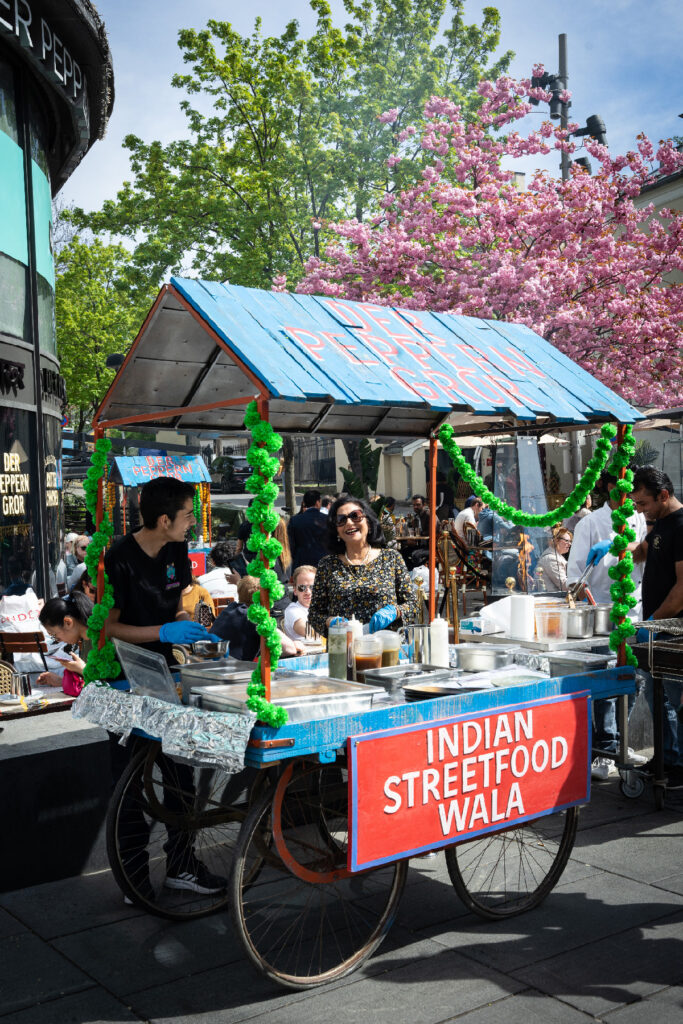 Der Peppern Gror is an Indian restaurant and a true favourite in Oslo. It is where the city's best chefs go for Indian cuisine, including renowned Eyvind Hellstrøm who has expressed his love for the place. The restaurant has large outdoor seating areas, both near the City Hall and on Bogstadveien (pictured). It's a perfect place to enjoy a delicious meal and cool down with a mango lassi.
Address: Fridtjof Nansens plass 7 and Bogstadveien 1